I'm super excited to announce that I'll be doing another photography workshop!
I wasn't planning on doing one this year, but I've had so many people contact me about it, I figured I'd just go for it!
Last time I did one it was only one day, and I just didn't have enough time to go over everything I wanted to cover. This time it's going to be a whole weekend!
This workshop will be targeting topics that you'll find very useful if you want to start shooting weddings, but can be used by anyone who wants to take their portrait photography to the next level.
I'm looking for five girls ages 15 to 30 to join me in June!
Workshop will be held in Oak Brook, IL.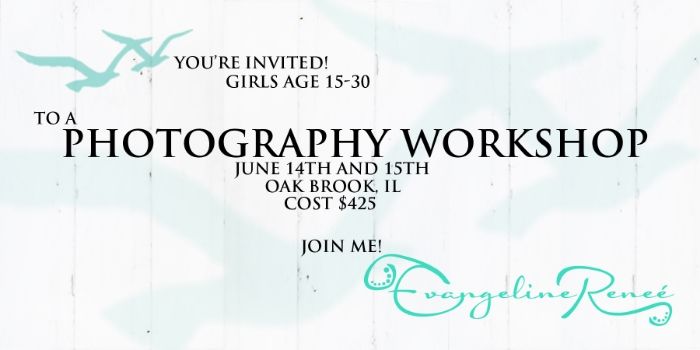 Topics this time will include, but not limited to…
Basic camera functions (we're just going to spend a short time on this. just to make sure we're all on the same page)
Posing to flatter (i see this as something that's really needed. you have to make your clients feel beautiful, or they won't come back)
Lighting to flatter (same as above)
How I conduct a shoot (watch and participate in a real shoot)
2nd Day Bonus Material!
How I shoot a wedding (learn how I approach a wedding, what I'm looking to capture, and how I do post processing)
Annnd I'm so excited that there will also be a whole session devoted to using the video capabilities on the new dslrs. (so much can be communicated with video, it'd be a shame for you to miss out on harnessing this asset)
I consider this workshop at an intermediate level so you'll need:
basic knowledge of your dslr camera, lighting, and composition. A laptop and Lightroom 2 or higher installed on it. And an attitude that's ready to learn and have fun!
Cost for the weekend will be $425
This will include two days of instruction, two brunches and two dinners, housing for Friday night, and we're also going to have some new goodies rented for you to 'play' around with! You'll just be responsible for travel, and ice cream.
Please email me at evy@evangelinernee.com for any more details or to submit your application. Please include why you want to come, what you're most excited to learn about, what kind of camera you have, and a link to your work ie. blog/flickr/facebook page…
My goal is for you to come away with: inspiration, knowledge to further your business, the tools to push your business to the next level, new friends, portfolio material, and awesome memories.
Accepting applications starting….now. (till 18th of May)
contact evy for clean, fresh, romantic photography